Wood varnish has been there since the time of the Egyptians but we have gotten a long way from just combining alcohol and tree sap. Modern-made varnishes now offer a mix of beauty hardness and ease of use. Recently, applying varnish to a surface is as easy as just painting on that surface.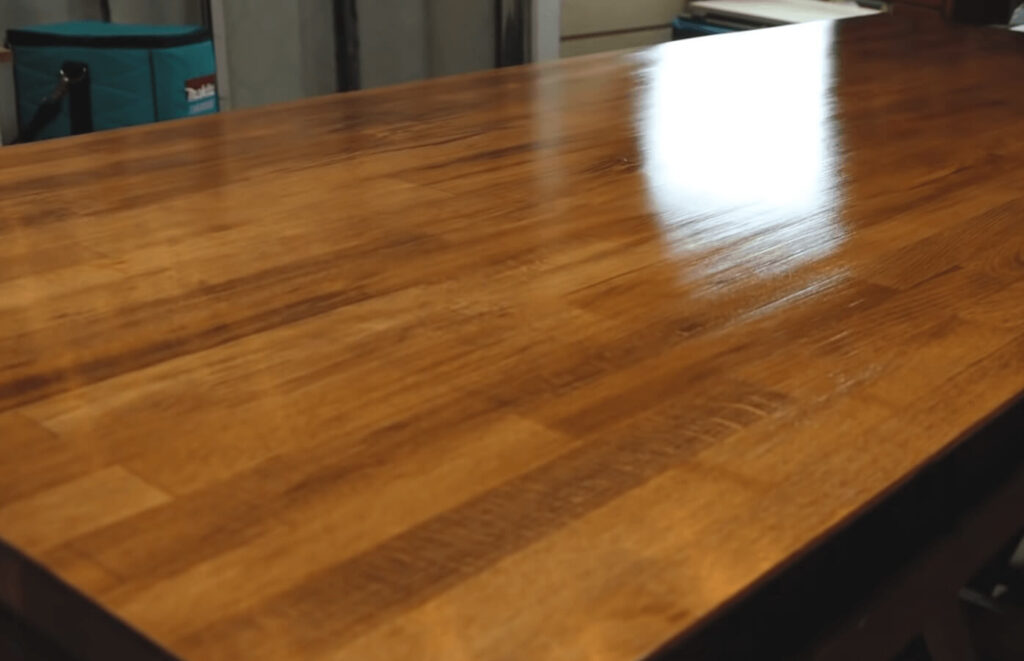 In as much as that, there are also fake or low-quality products that are in stores and we would help you as much as possible for you not to come across them. With that said, let's take a look at some of the products that would serve you better.
This varnish provides a clear finish and has been rated as one of the best ultraviolet-resistant varnishes in a popular boat-building forum. It gives maximum protection and a stunning appearance to outdoor wood surfaces, highlighting the natural look and feel of the wood.
Applying this product is easy with the instructions and directions provided, and it applies smoothly and tends to self-level more than other products. However, it does require about three coatings to achieve the desired result. Additionally, customer support may not be prompt in reply or action. Overall, I believe Epifanes Clear Varnish is the best choice for anyone looking for high-quality varnish for their wood floors.
After trying out TotalBoat Lust Marine Varnish, I can confidently say that it is a high-quality product worth investing in. It provides a beautiful, flawless finish that looks great even after multiple coats. I started with a quart of the high gloss and did three coats with 50%, 30%, and 20% dilution. The finish looked great and flawless at this point.
One of the best things about this varnish is that it can be rapidly recoated without sanding between coats, allowing up to five coats to be applied in one day. It also offers excellent UV protection and gloss retention.
Another advantage is that it dries quickly, usually within an hour, and then can be recoated easily. The smell is minimal, and it comes in a matte finish, which is beautiful. However, it is essential to be careful as an open can will film over and become useless quickly when stored.
Overall, I would highly recommend TotalBoat Lust Marine Varnish for anyone looking for a durable and beautiful finish for their woodworking projects. It's easy to use, quick-drying, and provides excellent results with minimum effort.
This varnish is ideal for outdoor wood surfaces like railings, trims, and furniture. Its oil-based formula allows it to expand and contract with changing weather conditions, making it a durable choice. It can withstand weather without cracking, which is why many users prefer it over other finishes.
The finish is transparent and provides a glossy coating that protects the wood surface. It's commonly used by the navy to protect their woodwork from constant exposure to saline water or air. However, it may take more time and patience to achieve excellent results compared to other varnishes.
In conclusion, if you're looking for a reliable and durable varnish for your wood projects, the Rust-Oleum 207008 Marine Spar Varnish is a great choice.
Most users claim that this product has a very nice application and it is very well sturdy too. I also learned that it is capable of offering a wonderful finish that goes on to be sleek and easy.
If compared to other products, this product from system three can work wonderfully after you restripe or restain it. You would be amazed to see the shine which this product would give out when it is being used. Since this product is made to be stable, it can last for a number of years even when it is exposed to ultraviolet lights. One negative about this product is that it is a bit pricey so people who are on a budget should not purchase it or they should go for another cheaper option. The second negative is it can harden immediately after use mostly when you don't close the lid therefore you should properly close it after use.
This nice combo makes this product give off a clear but impressive amber finish. It also helps fight off UV light and moisture damage. This makes it a great choice for both internal and external surfaces.
During application, this product does not form bubbles and or goes on more smoothly than most of the products in its category. There is no need to mix this varnish because it dries very quickly and you can apply as much coating as you want in a single day. It is very transparent and there is no added color plus it clusters when sunlight shines on it.
Once you varnish your wood with this product, you will find out that it gives the surface a satin finish which would look very attractive to your eyes.
This varnish from old masters flows very well without any hindrance and it is very easy to work with the aid of multiple coatings. You can do the job quickly using just a natural bristle brush. Even if you are not a professional, the result of the product would give you an excellent high-class finish as far as you follow the instructions of the manufacturers.
It is low in VOC and it can be used in terms of paint, brushed, or sprayed with all wood products. It comes with UV light protection and it can last 5 times longer than normal garnish products.
It is available in both satin and gloss finish and it works perfectly on natural wood. Purchasing this product means a professional result with little or minimal preparation. This product was mostly created for boaters by boaters but it can also be used in various applications.
FAQ
Buyer's Guide
If you're looking to showcase and protect the loveliness of your wooden surfaces, look no further than wood varnish! This coating offers a shield that guards against scratches, stains, or any damage caused by environmental changes. Plus it adds an eye-catching sheen that can bring out the depths and beauty in each piece of furniture or flooring. With so many types available nowadays though, making a decision on what to purchase can be difficult – but luckily this guide will provide an understanding of their distinct features so selecting your perfect match won't have to be strenuous!
Types of Varnishes and their Uses
Polyurethane varnishes are the most in-demand option available due to their long-lasting durability and protection against water damage. You can determine how many coats of this hardy substance you'd like based on your desired level of protection, ensuring that furniture or floors withstand heavy use over time.
Epoxy varnishes create a very durable layer of protection against water, heat, stains, and fading. Additionally, they can be used to give wood surfaces an extra glossy look if desired. Epoxy varnishes are ideal for outdoor projects such as decks and patios, where weather-resistant protection is essential.
Oil-based varnishes can protect surfaces from water damage, though they may not be as resilient to wear and tear as epoxy or polyurethane. Therefore, oil-based varnishes are best used in interior projects that don't experience a lot of usages such as wood trim around windows and doors.
For a subtle finish that is also eco-friendly, opt for water-based varnishes! These come in sheens ranging from glossy to matte and are perfect for furniture, cabinets, or any interior project. While they may not be as durable as oil or polyurethane finishes, they can always be easily re-touched if needed. Make the responsible choice – choose water-based varnish today!
When selecting the right type of varnish for your project, always consider the level of protection needed and what type of environment it will be in. This will help you choose the right product for the job and ensure a beautiful, long-lasting finish. With this guide in hand, you can confidently make an informed decision about which type of varnish is best for your project.
Benefits of Using a Varnish on Your Wood Surfaces
Protect your wood surfaces from scratches, stains, and fading with a varnish. Not only does it add an attractive shine that enhances the natural beauty of your wood, but also safeguards against environmental factors such as heat and moisture. Moreover, you can effortlessly apply a varnish to any project in moments – simply clean up afterward with soap and water! With so much variety on offer today, there's sure to be the perfect product for you.
Tips for Applying a Wood Varnish Properly
When applying a wood varnish, it is important to take the time to do it correctly in order to maximize its protective properties. Before getting started, make sure the wood surface is clean and free of any dust or debris. If you are using an oil-based varnish, apply a thin layer evenly with a brush or roller. Allow the first coat to dry before adding additional coats for added protection. For water-based varnishes, it's best to use a brush and apply several thin layers rather than one thick coat. This will help ensure that each layer dries completely before adding the next one. Finally, once the last coat has dried, buff out any excess with steel wool or fine sandpaper for a smooth finish.
Wood Varnish alternatives
If you desire a finish that isn't dependent on chemicals, then there are numerous options open to you. Linseed oil is an attractive option as it shields your wood surfaces from moisture and the sun's UV rays while also giving them a subtle gleam. If this doesn't fit what you had in mind, however, there are other organic choices such as beeswax, carnauba wax, and tung oil – each of which provides dependable protection without compromising the feeling or look of your wooden objects.
Varnish vs. Paint
When it comes to protecting and enhancing the look of wood surfaces, many people are unsure whether to use a varnish or a paint. Varnishes and paints both have their own advantages when applied to wood surfaces, though varnish is typically the preferred choice due to its superior protection and longevity.
Varnish is made up of resins, oils, and solvents that react with one another when applied as a liquid or semi-solid; this reaction creates a durable layer over the wood surface that can last up to 15 years with proper application and maintenance. This layer of protection guards against scratches, fading, water damage, and other environmental factors while also providing an attractive gloss to the wood's surface.
Paint is a more traditional choice for covering wood surfaces; however, it does not provide the same level of protection as varnish. Paint acts as more of a cosmetic option for wooden surfaces than an actual protective measure since it does not bond with the wood in the same way that varnish does. Additionally, paint can be easily scratched or chipped off; it may also fade over time due to sunlight exposure or regular use as opposed to varnishes which remain intact for longer periods of time without requiring frequent touch-ups.
Overall, varnishes are more suitable for those looking for long-lasting protection from environmental factors such as water and UV rays while the paint is better suited for aesthetic purposes such as changing the color of wooden furniture or floors without providing much in terms of actual protection. Both paints and varnishes serve important roles in projects related to wooden surfaces but they should be chosen based on what type of outcome you are looking for in terms of durability, appearance, and maintenance requirements.
Conclusion
When it comes to protecting wood surfaces, the varnish is one of the best options. It can provide an extra layer of protection against scratches, stains, and fading while also enhancing the natural beauty of your wood surfaces. With so many types available on the market today, you can easily find one that perfectly fits your needs for any project. Additionally, if you're looking for a more natural finish without chemicals there are several alternatives like linseed oil or beeswax that offer good protection with a subtle sheen. No matter which option suits your needs best, make sure to take the time to apply it properly in order to maximize its protective properties and get years of enjoyment out of your beautiful wood surface!