The quality of workmanship matters a lot when it comes to finishing your hardwood floors but beyond that, the quality of the materials used matters more! Polyurethane is the protective coating for hardwood floors and the brand of polyurethane will have a huge impact on the durability and aesthetic properties of your floors. In this article, I am going to walk you through the best-grade polyurethane products available for the best results.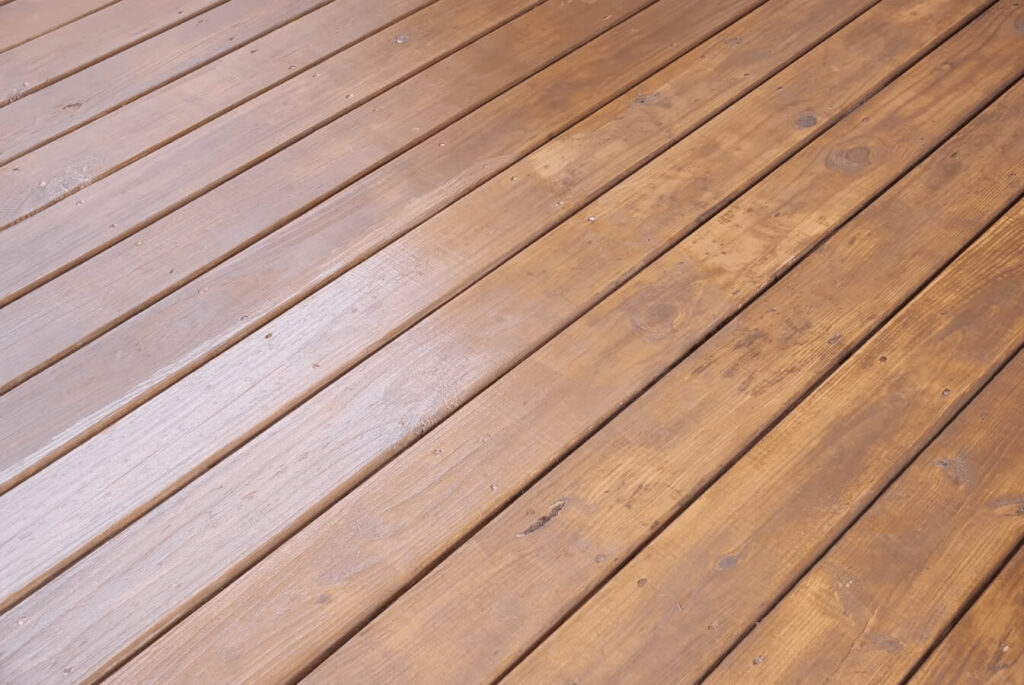 I recently tried out the Minwax 13022000 Super Fast-Drying Polyurethane For Floors and wanted to share my personal review of the product. Firstly, I have to say that the drying time is incredibly fast, which is definitely a plus. However, I did have some issues with the product leaving marks on my floor when I put heavy furniture back on it, despite the label stating that it was safe to do so. Additionally, it seems that there are some issues with shipping and returns according to some customer reviews, but luckily I did not have any problems in that regard.
Regarding the color of the product, it initially appears as a dark purplish-brown color but applies clear, which is something to keep in mind when using it. Furthermore, the fumes are noticeable so it's important to have some windows open when using it.
Overall, I would say that the Minwax 13022000 Super Fast-Drying Polyurethane For Floors is a decent product with its fast drying time and durable finish specifically formulated for hardwood floors. However, it's important to be cautious when putting heavy furniture back on the floor and to make sure that there is proper ventilation when using the product.
Varathane Premium Oil-Based Clear Floor Finish provides outstanding scratch and stain resistance to keep your interior hardwood floors looking great. It is recommended for interior bare hardwood floors as it would not give good results when used on surfaces such as linoleum, vinyl, glazed tiles, or metal. It has astonishing durability hence, it is ideal for high-traffic areas in kitchens and hallways.
The Varathane Premium oil-based Floor Finish improves the quality of wood by improving its appearance and value of wood. It has an attractive semi-gloss finish that highlights the natural beauty of the wood. This product is designed to resist stains and household chemicals making it versatile and suitable for hardwood floors and keeping it in good condition for extended periods.
I recently used Varathane Premium Oil-Based Clear Floor Finish on my sanded Douglas Fir 3 1/4 strip flooring in my 1940s-era farmhouse and I must say, I am thoroughly impressed with the product. The oil-based formula provided a very warm finish that is also very durable, making it exactly what I was looking for in a floor finish. Installing it was also easy using a 4-brush rated for oil products. Overall, I am very satisfied with my purchase and would highly recommend this product to anyone looking for a high-quality floor finish.
It brings out the natural beauty of the wood as it applies a clear, smooth, and self-leveling finish to the surface. With this product, particular caution should be taken in its application so as not to make it too smooth to reduce the risk of accidents and falls.
This polyurethane toggles a tough abrasion-resistant layer on your hardwood floor, offering it unbeatable protection. Although it is an oil-based product, it tends to give a lighter finish to the hardwood surface, so be sure you love just that light natural look. The fast-dry nature of this product coupled with its durability makes it a great choice. In terms of cost, it is also a great deal as it sits comfortably between the extremes of 'cheap' and 'expensive'.
Rust-Oleum Ultimate Polyurethane provides a long-lasting protective finish for hardwood floors with a distinguished soft-touch texture providing resistance to scratches and stains. It has an easy-to-clean water-based formula with low odor. So, if you ever need to have this soft-touch feel on your floors, all you need is this product and an application brush to start you out.
For this particular reason, it is very useful if you have a large surface to cover. The reviews from customers of this product are equally amazing as it rains praises for its durability and ability to form uniform coats with minimal troubles.
The pricing of the Dura Seal 1G Satin 310 Polyurethane is fair enough and relatively cheaper although the price tag appears massive compared to others at first glance. This is because this product comes in a one-gallon size whereas its close substitutes come in one-quartz, which is equivalent to one-quarter of the gallon size. The product may require more coats to achieve the advertised potential but this does not bring about an increase in cost. It is ideal for large projects or several small projects because of its increased content.
You can add a lot of value also to your furnishings as it can be used on both finished and unfinished wooden surfaces. It has a super-fast drying quality and levels out evenly on application.
This Minwax Fast-Drying Polyurethane is easy to use and makes wood easy to be cared for as it offers maximum protection against an array of potential damages. Upon application, this polyurethane dries very fast and is assured to bring long-lasting beauty on different wood surfaces. It gives a durable finish while enhancing the natural beauty of the wood grains. This particular product comes in a one-gallon container and is suitable for large projects.
It is manufactured with a water-based formula which increases its versatility and uses for a variety of surfaces, especially hardwood floors.
It has a gloss finish and can greatly improve the appearance of your hardwood floors and generally increase the value of your home. This product is ideal if you want to improve the appearance of your home and keep your wooden surfaces or furnishings protected for longer periods. It is suitable for hardwood floors with high traffic because of its scuff-resistant feature.
Buyer's Guide
Hardwood floors can add a luxurious feel to any room. However, hardwood floors require some extra maintenance in order to keep them looking their best. One of the most effective ways to protect hardwood floors from wear and tear is by applying polyurethane. Let's take a look at what polyurethane is and how it can help protect your hardwood floors.
What Is Polyurethane?
Polyurethane is a type of protective coating that forms an impenetrable barrier on your flooring's surface, protecting it from dirt, dust, and even water damage. Polyurethane also adds shine to your hardwood floors, making them look brand new again. There are two types of polyurethanes available on the market today: oil-based and water-based. Oil-based polyurethanes have been around for decades and are known for their durability; however, they can be difficult to clean up due to their stickiness. Water-based polyurethanes are more environmentally friendly but don't last quite as long as oil-based ones.
Benefits of Applying Polyurethane to Hardwood Floors
Polyurethane helps protect your hardwood floors from wear and tear, making them look newer for longer. It also adds a layer of protection against water damage and dirt, as well as providing an extra layer of shine. All these factors combined make polyurethane one of the most effective ways to protect your hardwood floors.
Preparing the Floor for Polyurethane Application
Before you begin applying polyurethane to your hardwood floors, it's important to properly prepare the surface. This includes sweeping or vacuuming up any debris, dusting with a damp cloth, and ensuring that all nails are recessed below the surface of the wood planks. You should also sand down any rough spots in order to create a smooth base for the polyurethane to adhere to.
How To Apply Polyurethane To Your Hardwood Floors
Polyurethane is a great way to protect and preserve the beauty of your hardwood floors for years to come. Applying polyurethane correctly, however, can be tricky. Here is a step-by-step guide on how to apply polyurethane to your hardwood floors:
1. Make sure that the surface you are applying it to is clean and free of dirt or other debris – vacuum, sweep and mop if necessary.
2. Sand the surface lightly with 180-grit sandpaper; this will help create an even surface for the polyurethane coatings.
3. Remove all dust from sanding by wiping down with a tack cloth or damp lint-free cloth.
4. Apply the first coat of polyurethane with a brush or roller, if desired. Start from one corner and move along in even strokes while avoiding puddling. Let this dry for several hours before starting on the next coat.
5. Sand lightly between coats with very fine grit sandpaper, such as 320 grit; this will help ensure an even finish. Wipe the dust away again with a tack cloth or lint-free cloth before applying each successive coating.
6. Gradually build up the required number of coats (typically 3-5), then let the last coat dry overnight before walking on it without shoes or socks on. Allow it to cure completely (2-3 weeks) before placing furniture, area rugs, or other objects on it.
Caring for Your Hardwood Floors with Polyurethane
Once the polyurethane is applied, you can begin caring for your hardwood floors as usual. Make sure to vacuum and sweep regularly in order to keep dirt and dust off of the surface. You should also avoid using any harsh cleaning chemicals on your hardwood floors, as these could damage the finish. When mopping, use a damp mop with a mild wood cleaner or just plain water.
Polyurethane vs. Wax
Many people debate over the best product to use on hardwood floors. Polyurethane is a popular choice, as it offers superior protection against wear and tear while still adding shine. However, some prefer wax for its deep luster and easy application. Ultimately, the best product to use will depend on your own needs and preferences. If you want superior protection, then polyurethane is your best bet; however, if you're looking for an easier application and deep shine, then wax may be the better choice for you.
When done correctly, both products can help protect your hardwood floors from dirt and damage while also adding a beautiful finish that makes them look even better. Ultimately, it's up to you to decide which one is best for your home. No matter what product you choose, taking the time to properly prepare and apply it will ensure that your hardwood floors stay beautiful and protected for many years to come.
Polyurethane vs. Varnish
When it comes to protecting hardwood floors, there are a few different options available. Two of the most popular products are polyurethane and varnish. Each has its own advantages and disadvantages, so it's important to consider which one is best for your particular needs.
Polyurethane is usually more durable than varnish and offers superior protection against wear and tear while still providing a beautiful finish. The downside is that it can be more difficult to apply than varnish and may require additional coats in order to achieve the desired level of protection.
Varnish, on the other hand, is easier to apply than polyurethane and can provide a beautiful finish with minimal effort. The downside is that it may not be as durable or long-lasting, so you may need to reapply it more often.
Frequently Asked Questions About Using Polyurethane on Hardwood Floors
Conclusion
Polyurethane can be an excellent way to protect your hardwood floors from everyday wear and tear while adding shine back into your space! While applying polyurethane isn't necessarily difficult, it does require some time and preparation beforehand in order for it to achieve its maximum effectiveness. Follow these steps closely when applying polyurethane so that you can enjoy beautiful hardwood floors for many years to come!