Wooden Equipment or Kitchen Tables made of mahogany, cherry, oak, pine, and more are beautiful and they add more beauty to one of the most important parts of the house. It is wise for users to protect and extend the life of their wood countertops from accidental damage with a clear wood finish. This top 10 list and buying guide looks into the different types of wood finish which are suitable for kitchen tables, features, and what to expect when you place an order.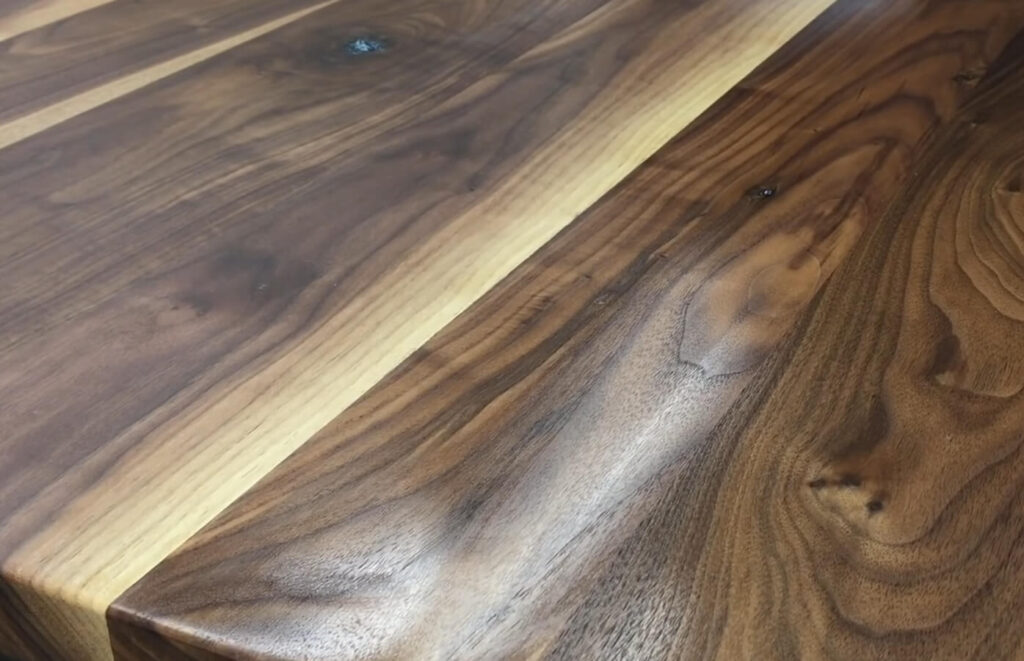 This wood finish is known to be a water-based polyurethane finish meaning that it would be able to be cleaned up easily with just water and soap. The fast-drying feature is so prominent that it makes it perfect for application on a variety of surfaces.
The Minwax 60910000 Wipe-On Poly Finish Clear will protect your wooden kitchen table for years and it will increase the durability of your raw product. It enhances the texture and natural beauty of your wooden table giving it a clear and satin finish. The odor, on the other hand, is very mild, it is made to be low ok the odor side because of the fact that it is meant to be used indoors only.
The best feature of the General Finishes Semi-Gloss EF High-Performance Polyurethane is the longevity of the product. Instead of producing a soft-like coating, this finish for a wood kitchen produces a hardened surface that can withstand any heavy-duty force which is being thrown at it.
It can be gotten in different sizes starting from quartz up to a gallon. Application is very easy and this makes it perfect for doors, furniture, cabinets, and kitchen tabletop. During application, it produces minimal odor which is not hiking, and can be cleaned off using only water and soap.
The Rust-Oleum 200241H Water-Based Polyurethane is a very affordable choice for beginners. It can be combined with different finishes such as dye to find the best most scratch-resistant coating without having to worry about yellowing. The Rust-Oleum 200241H Water-Based Polyurethane, however, is not suitable for outdoor projects and surfaces so it is advisable to use this finish indoors only.
Two features that make this wood finish desirable one is the ability for it to protect paints and stains and the ultraviolet stabilizers which prevent harmful sunlight from fading and discoloring the underlying stain.
The General Finishes SQ Oil Based Gel Topcoat is basically manufactured for indoor purposes but it can also be used on floors. It is one of the few water-based polyurethanes to be actually used in this situation because it is resistant to dents, scratches, etc. Application is very easy because of the low odor feature and when applied, it glides easily on the surface without forming any bubbles. It also dries within a short period of time and most times it doesn't require more than two coatings. This makes it perfect for woodworkers, carpenters as well as novices.
This finish is suitable for only indoor purposes and it adds great beauty to a range of wooden surfaces to it is being applied. The Minwax 64444 Polycrylic Protective Finish Water Based is perfect for a variety of jobs and it produces a clear semi-gloss look which helps keep the quality and the durability of the product over time.
The application is very easy. Due to the fact that the Minwax 64444 Polycrylic Protective Finish Water Based is a water-based polyurethane, it is easy to wipe off after use using just soap and a rag. It dries fast because it is a high-quality polyurethane which the company assures its users that won't discolor anytime soon.
Due to the fact that it is a water-based polyurethane finish, its formulae are low in VOC contents making it low in odor meaning you don't have to move out to wait for it to dry.
The Vermont Natural Coatings PolyWhey Furniture Finish comes in about two types of coating namely semi-gloss and satin. This kitchen wood table finish is perfect for wooden kitchen utensils and furniture making it perfect for a variety of products and countertops. Application is very easy, just use a brush and carefully apply the coat over raw or painted wood. Since it is also water-based, cleaning is very easy with just a rag and soap.
Another feature that makes this finish for the wooden kitchen table stand out is the fact that it is the only product that comes with little metal particles inside so the application can be very easy.
This finish can be used as paint and it will give it a more vibrant color with less paint used. It is highly resistant to heat and it does not affect the product if it is applied directly under the sun. The General Finishes SBQT Wood Bowl Finish is made with a raw material that is environment-friendly and safe for food products and it stands out which so much uniqueness and quality.
This wood finish is made from Tung Oil and one of the best features of this type of coating is that it penetrates the wood grain giving your tabletop a water-resistant feature. This means that you don't have to worry about spilling any soup or liquids and it is also easy to maintain and wipe clean. Also, have it at the back of your mind that this option can't be used alone but you also need a sealer from Waterlox or any other brand.
The General Finishes SGQT Arm-R-Seal Urethane Topcoat gives your wooden table a semi-gloss type of coating which coats it around like skin preventing dust, dirt, and debris from staining the wood. Applying General Finishes SGQT Arm-R-Seal Urethane Topcoat to a wooden surface is very easy. You can use a foam or a brush to dip and apply easily. It also has a strong odor so consider applying it in a well-ventilated area.
One thing users have to put at the back of their minds is that although this Minwax product is advertised as clear, it would still change the color of your table because it is an oil-based polyurethane finish.
Buyer's Guide
Polyurethane is a highly adaptable substance often used to create stunning table tops. Its range of uses extends far beyond simply furnishing tables, as it has the unique capability of protecting wood surfaces from scratches, scuffs, and spills while preserving their natural beauty at the same time! So if you're looking for sturdy yet charming table finishings then polyurethane should be your go-to choice. It also has excellent resistance to heat and moisture damage, making it ideal for kitchen or dining tables in high-traffic areas. With its easy application and long-lasting results, polyurethane makes an excellent choice for anyone looking for an affordable way to protect their furniture from wear and tear.
Why is polyurethane the best solution for Table Tops?
Polyurethane provides incredible protection and longevity- perfect for tables that will receive a lot of use or be exposed to tough conditions. It's simple to spread with either a brush, roller, or sprayer and requires little upkeep throughout its years of service. Plus, the polished sheen it creates amplifies your table's natural beauty! Not only is polyurethane suitable for both hardwood and softwood surfaces alike but also offers superior safeguarding no matter what type of table top you have in your home.
Benefits of Using Polyurethane on Table Tops
Polyurethane provides superior protection against scratches, scuffs, liquids, and heat. It is also an effective sealant that helps to prevent warping or cracking due to environmental factors such as humidity or temperature changes. When applied properly it creates a durable finish that will withstand years of use without fading or chipping away. Additionally, polyurethane is easy to repair if any damage does occur so you can trust your table will be well-protected for the long term. All in all, polyurethane is a great choice for anyone looking for a reliable and affordable way to protect their tables from everyday wear and tear. With its many benefits, it's no wonder why polyurethane is one of the most popular surface finishes for tables.
Does it safe to use on Table Tops?
Polyurethane provides an excellent safe coating for any kind of table, as it contains no hazardous chemicals or solvents that can cause skin allergies and respiratory issues. Not only is polyurethane non-toxic, but it's also a breeze to maintain; so you don't have to worry about potential health hazards arising from using polyurethane on your table top! It's evident why polyurethane has become such a widely used choice when selecting surfaces for tables – its many benefits make it the perfect option.
Polyurethane alternatives to using on Table Tops
If you're looking for an alternative to polyurethane for your table tops, there are many options available. Varnish and lacquer are popular choices that offer a glossy finish and excellent protection against scratches, scuffs, and spills. Both of these finishes are durable and easy to apply although they may require more frequent maintenance than polyurethane. Another option is linseed oil or tung oil which provide an attractive natural look but may not be as protective or long-lasting as other finishes. No matter what type of table top surface you choose, it's important to make sure you properly prepare the wood prior to application in order to get the best results.
How to Apply Polyurethane on Your Table Top Step-by-Step
1. Begin by sanding the surface of your table to create a smooth finish.
2. Clean any dust or debris with a damp cloth, then let the wood dry completely before applying polyurethane.
3. Apply an even coat of polyurethane onto the surface using a brush, roller, or sprayer and allow it to dry for at least 24 hours before adding additional coats.
4. For best results, apply multiple thin coats rather than one thick coat as this will help ensure even coverage and prevent drips or runs from forming on the surface.
5. Allow each coat to dry for 24-48 hours before applying additional coats until you have achieved the desired level of protection and sheen.
6. Once the final coat has dried, your table is ready to use.
To achieve a protective finish with long-lasting resilience against scuffs, spills, and heat, applying polyurethane to your table top is key. With proper preparation of the wood before application, this layer will provide reliable protection for many years to come. While you can select any type of coating you prefer, utilizing polyurethane offers an unbeatable defense that won't let you down! Without the right preparation, even the most effective protective coating may not be able to stand up against everyday wear and tear. So take the time to do it right and enjoy beautiful, well-protected tables for years to come.
How to Take Care of a Table Top
Taking proper care of a table top with a polyurethane finish is essential for keeping the surface looking beautiful and lasting for years to come. Here are some step-by-step instructions on how to take care of your table and keep it looking its best:
1. Dust your table regularly with a soft, dry cloth or brush to prevent dirt and dust from accumulating on the surface. This will also help reduce static and allow you to easily wipe away any spills or crumbs without scratching the finish.
2. Avoid using chemical cleansers or any type of abrasive material as these could damage the polyurethane finish and cause fading or discoloration. Instead, use specialized wood-care products that are specifically designed for use on kitchen tables with polyurethane coatings or make your own cleaning solution using mild soap and warm water.
3. Apply small amounts of cleaner onto the surface using a soft cloth and rub gently in circular motions until all dirt and debris have been removed. Be sure not to scrub too hard as this could remove the protective coating from the table top. Once finished, dry off any excess moisture with a clean cloth before allowing it to air dry completely.
4. To protect your table even further, you can use coasters when placing hot dishes directly on its surface as well as placemats when setting items down near the edges of the table top—this will prevent any accidental spills from seeping into cracks and crevices which could lead to staining or warping of the wood over time.
5. When not in use, store your furniture indoors where it won't be exposed to direct sunlight, extreme temperatures, humidity, or moisture which can all cause damage to your table's finish over time if left unprotected.
Following these simple steps can help ensure that your table remains looking its best while also extending its lifespan so you can enjoy it for years to come!
Conclusion
Polyurethane is an ideal material to use as a table top surface thanks to its financial affordability, dependability, and protective qualities. Not only is the application process simple but that also creates long-lasting results. Whether you're looking for protection from heavy traffic or just want to add some shine to your wood table, polyurethane will give you what you need! With this magical solution your furniture can look like new for years without any extra effort at all – now isn't that great?!