Primers are recommended by professionals and experts for surfaces that are going to be painted such as wooden surfaces. It is a form of chemical which helps users cover stains and lock smells and odors coming out of the wall. Many people feel that primers aren't that important but they would not be happy to see the way their painting job looks without it.
Choosing a Good one is also necessary so that you can have a high-quality finish that you can be proud of. In this article, we are going to help you go through various primers available, see their pros and cons and check if the product is recommended for use.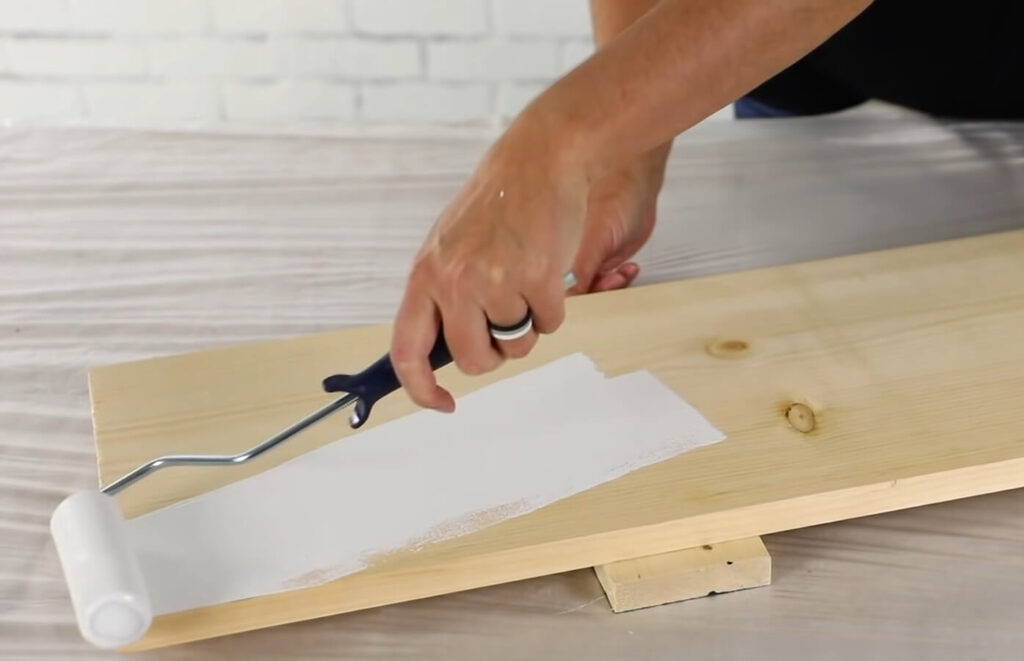 If your main aim of using a primer is to cover up stains, and dirt and lock in odor on wooden surfaces, this shellac-based type of primer is the right choice for you to make.
Remember that shellac-based primers have a very high amount of volatile organic compounds and ensure the ventilation in your room supports the application of this primer. When compared to other types of shellac-based primers, this product dries very fast. Most shellac primers dry faster than oil-based primers but not as fast as water-based primers, but when it comes to this product, the drying mechanism is faster than even water-based primers.
This makes it a perfect candidate for softwood surfaces because it is less likely to lift the grain of the softwood.
The KILZ Premium High-Hide Stain Blocking Primer hides stains slightly better than most water-based primers and the only difference between this primer and other water-based primers is that it contains mildewcide, an agent which kills mildew.
This primer has excellent adhesion properties which are a great option during color change due to the fact it sticks well to the surface of old paint.
Application is very easy and it being just a primer means you will need to add an extra coating of paint (oil-based or latex) on top of it.
After application, this paint dries off very quickly since it's not an oil-based paint. It takes one gallon about 30 minutes to completely dry off. This means you don't have to wait for a while before reapplying this primer. You can start reapplying this primer within an hour after the first application.
A gallon of this primer can cover as much as 300 – 400 square feet of the surface. The recoating time is longer compared to other primers and when you are done applying this primer, it takes 4 hours to form an extremely hard film which then recoating can be done.
The KILZ L211101 Adhesion High-Bonding Interior Latex Primer is suitable for both exterior and interior surfaces. It can be used on various surfaces but it is mainly made to be used on hard-to-stick surfaces.
It is suitable for both interior and exterior usage. Drying doesn't take long and the surface to which it was applied would become hard in just an hour. Recoating time does not seem long either. Recoating can be done about two hours after the application.
The Rust-Oleum 1980502 Painters Touch Quart primer is thick so it can cover your entire desired surface. The only disadvantage to its viscosity is that it can not be sprayed.
The Rust-Oleum 1980502 Painters Touch Quart primer is also a quick-drying primer. Just like most of the primers on this list, it just takes 30 minutes for it to dry to the touch, and recoating can be done two hours after application. Speed is one of the main features this primer packs.
It is made affordable by the company which when it comes to primers, is a big deal. The only downside to this product is that it isn't mildew or mold-resistant meaning that it cannot be able to protect your wooden surfaces from molds and mildew growing on them.
The KILZ Original Multi-Surface Stain Blocking Interior Oil-Based Primer does a very nice job of covering up stains and locking in odor and if you have a wall that has been damaged by moisture, this primer gives you a finishing making it look the same just like it hasn't been damaged at all.
The application of this primer is very easy and the primer dries to the touch in about 30 mins. After this, it can be recoated with a layer of paint one hour after. It can fit various surfaces such as masonry, brick, wood, metals, etc.
Secondly, this type of primer dries faster than normal primers. It can dry within 5 minutes of application and it takes under 30 minutes to reapply the paint coating.
What to Consider when Purchasing the Best Wood Primer
This section of the review is designed to give you factors that you should consider or have in mind when buying a wood primer, so even if you haven't laid your eyes on one yet, you can know every feature that is important which can, in turn, affect your buying decision. If you are also a good painter but lost touch with the profession long ago, this guide will help you compare what you want with what is available.
Smell
The smell is a factor anyone has to consider in any job that has to do with painting. Some primer products can lock in scents and odors that have gathered in your walls, especially if it's drywall. If you stay in places in which there are pets or smokers, a primer that is capable of fighting the smell would be a lifesaver in this situation. In this scenario, you have to be very sure that the odor is coming from the walls and not the carpet because even after using a smell-fighting primer, you would end up still getting the odor from your carpet.
You must also consider the smell which comes with the primer. Using primers as well as paints can be a nasty and smelly process in anyone can undergo. If par adventure you are so sensitive to smell, consider getting a primer that has a low scent or better yet a low-smell formulation. As usual, with pleasure comes extra expenditure so you have to be ready to surpass your budget if it really means that much to you. Sometimes, outdoor primer products do work indoors too but it is mostly stated as an outdoor product because the odor is choking if it is being used indoors.
Be careful also to get the area in which you want to apply wood primers ventilated. Keeping your windows open or moving out of your projects to the outdoor space is a great way in which you can reduce the choking odor primers give when they are being applied.
Stain Coverage
One of the features which you must look out for in a modern wood primer is the ability to cover or coat stains and dirt on the base material. Paints are made to mask stains and dirt, but cheap paints tend to react differently when up on different types of base materials. Sometimes the stains show through the paint applied since they have different colors compared to that of the paint. Therefore finding a primer that is best at covering up stains by providing a uniform base for the paint you want to make use of is very much important.
You should also know that some dirt and stains don't really need to be covered up but removed all scrapped entirely. Wood primers can do a lot of things but they cannot repair structural damages done on wood surfaces. If your wall is in any way wet, avoid covering it up with primers or paint because any of these two can lock in the moisture, damaging the wall.
Drying Time
Knowing how long it takes for your primer to dry is a very reasonable factor one has to consider when buying the best wood primer. Different products have different drying times so when choosing a wood primer, the time it takes for it to dry is totally dependent on the choices you make. Some establishments make primers that they claim are "fast drying", with a drying time of 30 mins to 1 hour. However, this is not entirely true but within 30 mins to 1 hour, the primer is dry enough to hold the paint but not dry enough. Even the best primers require up to 48 hours to thoroughly dry off.
Types of Primers
There are specifically three types of primers and each primer has its own features, properties, advantages, disadvantages, and use. The information provided below is the general information for each type of primer but descriptions may vary with products.
Water-Based Primers
If your requirements include a primer that is easy to get out of paintbrushes, then you should consider going for a water-based primer such as latex. These types of primers are safer because they have little or no VOC and since it is water-based, it is easier to clean. They are perfect for brick walls, drywall, softwood, and galvanized metal but one downside about them is that it is not effective in stain covering as the other types of primers.
Oil-Based Primers
Being the most widely used type of primer, oil-based Primers are okay for almost any type of surface but it is perfect on all wood surfaces. They can help seal pores found on wooden surfaces making the coating easier than normal. These types of primers help stop dirt from seeping through the wood and they can also help prevent the paint from peeling.
Shellac-Based Primer
Being the third type of primer, it is one of the oldest types of primer and it has existed for centuries. It is the best stain-covering type of primer and it sometimes costs twice more as the rest. It can cover anything from smoke damage to rust to water damage. This form of primer can also seal in scent and odor in the wall. It is best used with either oil-based paint or water-based paint. The only bad side of this type of primer is that it is difficult to use and also clean up.
Conclusion
Primers work hand in hand with paint. Or at least they should. When getting a primer for your project, you need to make sure that the one you purchase goes together with the paint you want to make use of. Therefore, make sure your paint is going to blend well with your wood primer. Keep these key points and features in mind when you shop online so you can end up choosing the primer which suits your taste